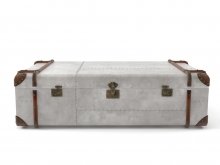 Detail level
Photorealistic
Available 3d file formats
One purchase gives access to all file formats available. By default only .max file format is selected for download.
During the checkout process and before downloading a model you will see a list of available file formats to make your selection.
You can download at no cost all additional file formats needed at any time from "Downloads" page in your Account.
After seemingly circling the globe, a canvas-clad steamer trunk landed at a famed European antiques market. It was battered and worn, but its careful construction and handsome detailing marked it as bespoke luggage, crafted in early 20th-century England for a traveler of discerning taste (a traveler whose name – according to the brass plate mounted above the latch – was Tom Richards).