Detail level

Photorealistic
Available 3d file formats
One purchase gives access to all file formats available. By default only .max file format is selected for download.
During the checkout process and before downloading a model you will see a list of available file formats to make your selection.
You can download at no cost all additional file formats needed at any time from "Downloads" page in your Account.
View more on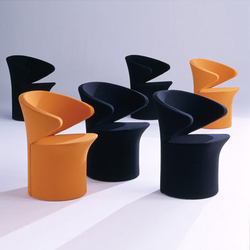 The idea for a chair to be used as a conference and side chair in the same spirit as his big fibreglass seats has been for years in Eero Aarnio's mind. A lot of drawings have been made, a lot of different materials have been tried, but none of them really satisfied at the same time the artificial and technical needs of the designer.
Aarnio: "When I begin to design brand new idea I must have the feeling, that everything is possible, and it will be if I have a good professional background. As a designer I am artist, a sculptor, but in my field it is impossible to be an artist without being also technician."
The Focus Chair has metal frame construction, which is completely covered by foam and upholstered with Tonus 2000 fabric available in big scale of colors. Ergonomic design and comfortable seating are as natural for Aarnio as the outstanding shape.
The Focus Chair was shown first at the International Furniture Fair in Cologne (Germany) in January 2003.