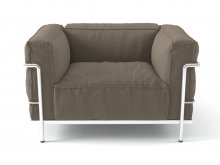 Detail level
Photorealistic
Available 3d file formats
One purchase gives access to all file formats available. By default only .max file format is selected for download.
During the checkout process and before downloading a model you will see a list of available file formats to make your selection.
You can download at no cost all additional file formats needed at any time from "Downloads" page in your Account.
View more on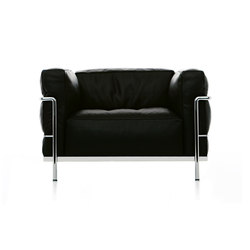 This is one piece of furniture that needs little introduction: the LC3 Armchair by Le Corbusier is the archetypal modernist chair in which Le Corbusier realised his minimalist ideals. Described by his group as the "cushion basket", the most distinctive feature is the external frame and almost perfect cubed shape of the chair. Now produced under licence by Cassina, our 3D models of the LC3 are a perfect reproduction of this iconic and influential chair, which is as elementally striking today as it ever was. For architects and interior designers, this is the chair that adds a masterful presence to their 3D visualisations whether featuring in a contemporary living space or working environment. For Le Corbusier the LC3 Armchair fitted into his vision of the International Style and it's industrial rationale, yet ironically today the chair looks less like a revolutionary statement and more like a timeless classic.