Detail level
Photorealistic
Available 3d file formats
One purchase gives access to all file formats available. By default only .max file format is selected for download.
During the checkout process and before downloading a model you will see a list of available file formats to make your selection.
You can download at no cost all additional file formats needed at any time from "Downloads" page in your Account.
View more on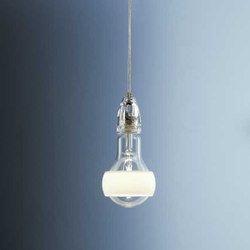 Stunning! A simply exceptional piece of lighting like all objects bearing the name Ingo Maurer. Designed in 2002 by the German designer Bernhard Dessecker, Johnny B. Good is a typical Ingo Maurer lamp, where a halogen bulb, the source of light, is at the center of the design. Made of glass, Teflon and plastic, the pendant features a white shade ring made of heat-resistant PTFE and is adjustable in height. The name, Johnny B. Good, comes from the famous 1958 rock and roll song by the American musician Chuck Berry.
We simply couldn't resist making this iconic piece of lighting in 3D. Our Johnny B. Good 3D models are crafted with great attention to every tiny detail, perfect for high quality visualizations. For architects and interior designers, these are pieces that will easily fit both contemporary and traditional interior settings thanks to their classic design. Suspended above tables, counters or in hallways, they will warm up any space and stand the test of time.