Detail level
Photorealistic
Available 3d file formats
One purchase gives access to all file formats available. By default only .max file format is selected for download.
During the checkout process and before downloading a model you will see a list of available file formats to make your selection.
You can download at no cost all additional file formats needed at any time from "Downloads" page in your Account.
View more on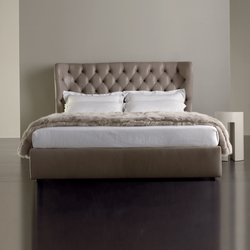 A bed with strong personality that will beautifully furnish the interior space. Loren is designed in 2008 by Andrea Parisio and features a nice quilted headboard and a wooden frame that can be disassembled with metal cross bar. Loren double bed is manufactured in Italy by Meridiani. Our in-house artists have gone a long way making 3D models of it. Photorealistic to every tiny detail, our computer generated interpretations are ideal for high-end interior visualizations, inclusive views from above and close ups.