Detail level
Photorealistic
Available 3d file formats
One purchase gives access to all file formats available. By default only .max file format is selected for download.
During the checkout process and before downloading a model you will see a list of available file formats to make your selection.
You can download at no cost all additional file formats needed at any time from "Downloads" page in your Account.
View more on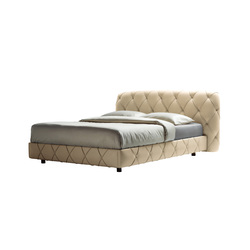 Fancy and dramatic, Flair is a real bijou that will embellish any bedroom setting. This theatrical bed will suit both modern and traditional interiors, blending present and past, new and old. Designed in 2010 by Italian studio Angeletti Ruzza Design, Flair is manufactured in Italy by Poltrona Frau.
Our in-house artists have gone a long way making a 3D model of the Flair Bed. Photorealistic to every tiny detail, it beautifully reproduces the soft curves and the innovative capitonée that gives the surfaces greater depth and character.