Detail level
Photorealistic
Available 3d file formats
One purchase gives access to all file formats available. By default only .max file format is selected for download.
During the checkout process and before downloading a model you will see a list of available file formats to make your selection.
You can download at no cost all additional file formats needed at any time from "Downloads" page in your Account.
View more on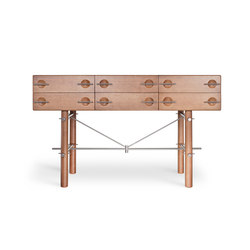 Sophisticated and unique, the Bianca chest is representative of Sergio Rodrigues idiosyncratic aesthetics. It is a real proof of the designer's belief that "The piece of furniture is not just the shape, not just the material which is made but also something inside it. It's the piece's spirit. It's the Brazilian spirit. It's the Brazilian furniture".
Designed in 1993, today the Bianca chest of drawers is manufactured by LinBrasil: the company exclusively licensed to produce Sergio Rodrigues's furniture.
Our 3D computer model of the Bianca chest is crafted with extreme fidelity to the original design. Zoom for a close up and you will be impressed with the level of photorealism. The beautiful hand wood frame, the six drawers, the base with lathed wooden legs, the chrome-plated brass trivet and draw handles are all reproduced in a surprisingly accurate way.