Detail level
Photorealistic
Available 3d file formats
One purchase gives access to all file formats available. By default only .max file format is selected for download.
During the checkout process and before downloading a model you will see a list of available file formats to make your selection.
You can download at no cost all additional file formats needed at any time from "Downloads" page in your Account.
View more on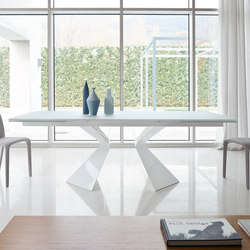 Impressive appearance and extreme linearity is what Prora Fisso stands out with. This unusual dining table with legs that recall the shape of a ship's prow is designed by the leading Italian designer Mauro Lipparini. Prora Fisso is a classic piece in Bonaldo's product collection and has been relaunched in 2013 in a new version. As most items bearing the name Bonaldo, it combines functionality with elegant styling and is perfect for modern settings.
Our 3D models of Prora Fisso are mastered with great fidelity to the original design. The distinctive rectangular form and the substantial metal base are precisely recreated with great modeling perfection. Available with table top and base in several different materials and finishes, our Prora Fisso 3D models will work ideally for interior visualizations, where you want to make the most of the available space.