Detail level
Photorealistic
Available 3d file formats
One purchase gives access to all file formats available. By default only .max file format is selected for download.
During the checkout process and before downloading a model you will see a list of available file formats to make your selection.
You can download at no cost all additional file formats needed at any time from "Downloads" page in your Account.
View more on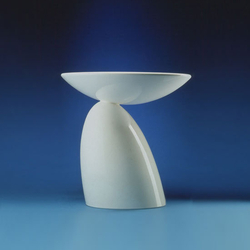 For the Parabel Dining Table the Finnish designer Eero Aarnio, who is regarded as a pioneer in the use of fibreglass materials in furniture design, has chosen his favourite material, as only this material allows such a free and expressive design giving it the appearance of an elegant sculpture. There are only few such long lasting and easy to care materials to meet the needs of a table surface.
It is available in a round version or in an oval shape and gives room for at least six chairs. At the same time when he designed the Parabel Table the Focus Chair took shape in Aarnio's mind. Together the two models are an unbeatable pair with timeless beauty and elegance and show the spirit of Eero Aarnio's designs.
The Parabel Dining Table was shown first at the International Furniture Fair in Cologne (Germany) in January 2003.
Year of design: 2002