Detail level
Photorealistic
Available 3d file formats
One purchase gives access to all file formats available. By default only .max file format is selected for download.
During the checkout process and before downloading a model you will see a list of available file formats to make your selection.
You can download at no cost all additional file formats needed at any time from "Downloads" page in your Account.
View more on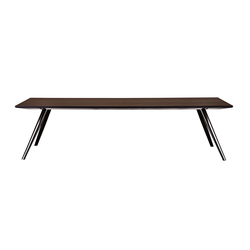 Every detail in the Evans table encapsulates the complexity that hides behind a seemingly apparent simplicity. The legs – four for the rectangular one – are in die-cast aluminum and have a tapered line that makes its separation from the ground particularly dynamic giving a sense of great lightness to the table. The legs are applied to the top with an almost awesome inclination, demonstrating how Evans is the result of understated but very high level technology.