Detail level
Photorealistic
Available 3d file formats
One purchase gives access to all file formats available. By default only .max file format is selected for download.
During the checkout process and before downloading a model you will see a list of available file formats to make your selection.
You can download at no cost all additional file formats needed at any time from "Downloads" page in your Account.
View more on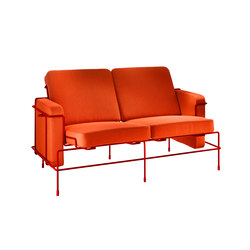 Traffic is an excellent example of this Konstantin Grcic's passion for technology and materials which always results in specific shapes, interesting textures and outstanding designs. The Traffic sofa belongs to a collection of upholstered furniture by Magis using a structural wire framework. Simple rectangular cushions slot into grid-like tubular metal frames forming elegant, geometric pieces of furniture. Proportions are carefully tailored. Details are refined.
Our 3D models of the beautiful Traffic sofa are reproduced in a very accurate way and with extreme fidelity to the original design. Available in four colors they will impart pleasant casualness into your interior design visualization.