Detail level
Photorealistic
Available 3d file formats
One purchase gives access to all file formats available. By default only .max file format is selected for download.
During the checkout process and before downloading a model you will see a list of available file formats to make your selection.
You can download at no cost all additional file formats needed at any time from "Downloads" page in your Account.
View more on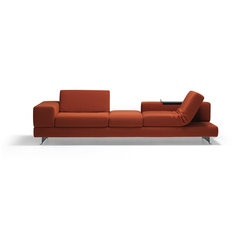 144 possibilities to rest: At first glance, Lax is just a 2.6 metre sofa. One that meets the highest aesthetic expectations with its simple design and refined details, but not a sofa that looks like it is the perfect shape for any sitting or lying position one can think of. And that is a good thing. After all, who does not like surprises? Who does not enjoy trying new combinations and discovering new forms of resting over and over again?

The two seating units can be turned in all directions. The living room can therefore be viewed from multiple perspectives without having to move the sofa even one millimetre. Thanks to the adjustable armrests and back, 144 combinations, including a bed, are possible. Or as the Zurich-based designer, Reto Frigg, describes it: "I have designed a sofa for Intertime on which I can unwind, whether sitting formally or lying down relaxed; that's why I called it Lax!" However, the possibilities of the sofa go further. Reto Frigg's design is modular, so the different elements can be individually connected to each other, allowing a lot of imagination and freedom in the layout of the living room. The stylistic vocabulary and the interesting details reflect the zeitgeist to combine permanent designs with character.

Therefore, Lax becomes the focus of any room, even if it is not placed in the centre. A shorter version of 2.1 metres without the central part for restricted spaces, and a 1.55 metre chaise longue, comprising a seating element and the middle part, are also available.