Detail level

Photorealistic
Available 3d file formats
One purchase gives access to all file formats available. By default only .max file format is selected for download.
During the checkout process and before downloading a model you will see a list of available file formats to make your selection.
You can download at no cost all additional file formats needed at any time from "Downloads" page in your Account.
View more on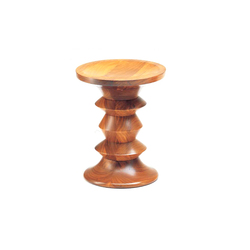 Ray Eames drew on her training as a sculptor to design a new kind of occasional piece for the lobby of the Time-Life Building in New York City. Eames walnut stools became her favorite seats and were liberally scattered about the Charles and Ray Eames home in Pacific Palisades.
A museum curator once ordered two of these stools for his son and daughter. "Graduation gifts?" he was asked. "No," he said, "the kids are only five and three. But I want them to have the experience of growing up with something truly good that they can keep all their lives."
Three looks: The center section of the stool comes in three distinctively sculpted profiles.
Made of solid walnut, these stools can be used anywhere and are beautifully versatile. Besides being places to sit, they also serve as low tables, display surfaces, or simply objects to be admired.
Year of design: 1960