Detail level

Photorealistic
Available 3d file formats
One purchase gives access to all file formats available. By default only .max file format is selected for download.
During the checkout process and before downloading a model you will see a list of available file formats to make your selection.
You can download at no cost all additional file formats needed at any time from "Downloads" page in your Account.
View more on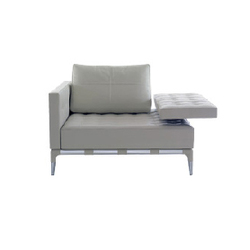 Dignified and formal in its articulation, the Privé collection features elegance and transgression in an inviting blend of the traditional, provocative, and ironic. The collection is made up of a number of models: armchairs, sofas, island units of varying sizes. The main structure and the feet are in polished aluminium with elegant visible straps. Seat in different densities CFC-free polyurethane foam; the seating itself is supported by belts.
Backrests and armrests with steel structure and padding in polyurethane foam and polyester wadding. The right or left horizontal armrest, serving also as a support or top, can be fix or adjustable in height (it can be locked in position over a 16 cm range).
The quilted covering is in leather.
The backrest cushions, which are removable with removable covers, have a feather stuffing. As a possible embellishment they come with white or black leather side strips.
Year of design: 2007