free
exclusive *
Official *
Detail level
Photorealistic
Available 3d file formats
One purchase gives access to all file formats available. By default only .max file format is selected for download.
During the checkout process and before downloading a model you will see a list of available file formats to make your selection.
You can download at no cost all additional file formats needed at any time from "Downloads" page in your Account.
View more on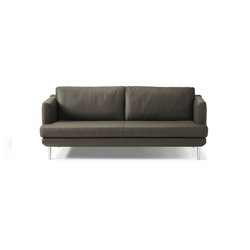 A lot of sofa for small spaces: With Liv, Zurich-based designer This Weber has designed a sofa that exudes elegance and generosity even when space is tight, thanks to its lightweight design. Flower petals inspired the fully adjustable back and armrests, explains the artist. Just as a bud has a natural beauty at each stage before the fully unfurled flower appears, the elements result in an aesthetic whole in every position. Folding armrests and adjustable back, headrests and footrests allow for comfortable sitting and lying.
Liv is the third seat This Weber has designed for Intertime. Together with Hannes Wettstein, in whose agency he worked initially as a furniture designer and later as a member of management, he developed the Qubit sofa and the Myon chair, which was awarded the red dot design award. He calls his latest creation "an elegant pocket knife among sofas".