Detail level
Photorealistic
Available 3d file formats
One purchase gives access to all file formats available. By default only .max file format is selected for download.
During the checkout process and before downloading a model you will see a list of available file formats to make your selection.
You can download at no cost all additional file formats needed at any time from "Downloads" page in your Account.
View more on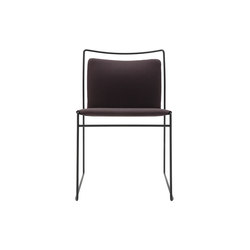 Tulu, designed in 1968 by the influential Japanese designer Kazuhide Takahama, was one of the first chairs manufactured with steel bars instead of bent metal tubes. That was a revolutionary step for its time making it possible to tighten the curves of the structure and allowing the frame to be produced in one single action thanks to the use of automated welding machines.
Our 3D models are based on the new version of Tulu launched in 2014 by the Italian manufacturer Cassina. It has been crafted with respect to the original design and features clean lines and formal restraint which are so typical for Takahama's work. Now, in addition to the chrome version, the bar frame can be painted in matt white or black, like Takahama himself had experimented. Seeking to introduce new finishes, the architect hand painted the chair's chrome frame; however this was not developed as it was not technically feasible at the time. The new version of Tulu has also improved comfort and aesthetics. All this is beautifully recreated in our 3D model.