Detail level

Photorealistic
Available 3d file formats
One purchase gives access to all file formats available. By default only .max file format is selected for download.
During the checkout process and before downloading a model you will see a list of available file formats to make your selection.
You can download at no cost all additional file formats needed at any time from "Downloads" page in your Account.
View more on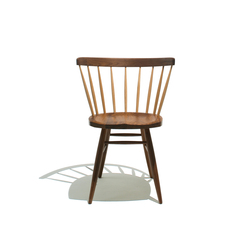 Presenting a very special re-introduction: the Nakashima Straight-Backed Chair (1948), designed by George Nakashima for Knoll. Nakashima was an MIT-trained architect who was known to describe himself as "Japanese Shaker." This was meant to express his belief that his designs should be treated as everyday functional objects, not precious possessions. Such thinking was consistent with the Mingei Movement that influenced Nakashima and his work. The Movement sought to rescue common crafts that had been discarded as a result of industrial revolution, like traditional Japanese joinery and the use of natural materials. What's remarkable about his work for Knoll is that Nakashima was able to maintain the sculptural lines and fine craftsmanship of his Straight-Backed Chair even at the mass production level. This reconciliation of art and industry, and the contradictions that accompanied it, continued to fascinate Nakashima throughout his career. His work has been presented at many exhibitions worldwide, including the retrospective "Full Circle" at the American Craft Museum in New York. This chair is manufactured by Knoll.