Detail level
Photorealistic
Available 3d file formats
One purchase gives access to all file formats available. By default only .max file format is selected for download.
During the checkout process and before downloading a model you will see a list of available file formats to make your selection.
You can download at no cost all additional file formats needed at any time from "Downloads" page in your Account.
View more on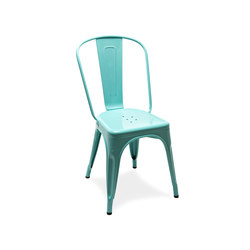 The A-Chair from Tolix Steel Design is exhibited in museums such as the MOMA and Pompidou Centre, has sold thousands of units since its creation in 1934, and can be found in factories, hospitals, cafes and public parks across the world. Perhaps it's the inexpensive and cheerful nature of this perfectly proportioned chair that has made it so popular as well as being an indisputable icon of modern design. With photographic realism our 3D models capture the simple grace and visibly stable structure of the A-Chair from Tolix Steel Design. Constructed from sheet metal it is the epitome of lightness and strength combined with ease of maintenance. Designed by Xavier Pauchard in 1934, the A-Chair is galvanised for durability and often painted to suit a variety of environments, making it a standout design classic for your 3D interior design or architectural presentations.