Detail level

Photorealistic
Available 3d file formats
One purchase gives access to all file formats available. By default only .max file format is selected for download.
During the checkout process and before downloading a model you will see a list of available file formats to make your selection.
You can download at no cost all additional file formats needed at any time from "Downloads" page in your Account.
View more on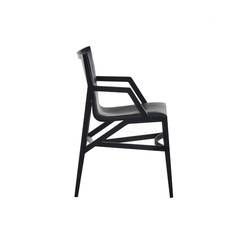 A simple structure that evolves little by little into successive more complex forms - chair, small armchair, armchair and ottoman - defining itself step by step in a constellation of objects of cultured, clear, fine form. The attractive wooden frame elegantly draws the space suited to a conservation. There is no encumbrance, only discretion: a progression by deduction transformed into objects of great lightness.
Dordoni stays clear of working on elementary geometric lines or the conceptual approach. His path is the modeling of outlines, study of the joints and structural cross-winds as the occasion to create a shape-and-form grammar with constructional technology. In this his first design work for Cassina, Rodolfo Dordoni has come up with a collection of extraordinary lightness and constructional know-how, authentic structural cabinet-making joinery and taut leather surfaces. This is a project that inevitably calls up not only a comparison with the great legacy of Gio Ponti, but also the teaching of Franco Albini.
Frame in natural, black or white stained open pore ashwood. Seat shell in leather upholstered fibreglass.
Year of design: 2007