Detail level
Photorealistic
Available 3d file formats
One purchase gives access to all file formats available. By default only .max file format is selected for download.
During the checkout process and before downloading a model you will see a list of available file formats to make your selection.
You can download at no cost all additional file formats needed at any time from "Downloads" page in your Account.
View more on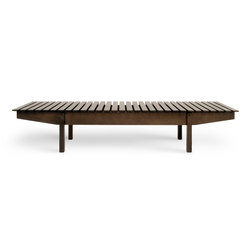 Designed in 1958, Mucki is one of the most captivating creations by the brilliant Sergio Rodrigues. This striking piece of furniture with unusual proportions and simple, yet sophisticated form of the elongated bench, asserts an overwhelming presence. Designed as a multi-purpose piece, Mucki can be used as both a bench and a side table and is manufactured by the Brazilian furniture brand LinBrasil.
It is handmade of solid wood and features a long wood surface, striated by short slats – a real masterwork. The great craftsmanship has been beautifully reproduced in our 3D models of the Mucki bench. Mastered with utmost modeling perfection, they are available in varying lengths and finishes and are ideal for interior visualizations. Mucki can be placed as a freestanding piece, or as congenial supplement to a generously dimensioned sofa and armchair landscape. Or perhaps as the most extraordinary coffee table you've ever seen.