Detail level
Photorealistic
Available 3d file formats
One purchase gives access to all file formats available. By default only .max file format is selected for download.
During the checkout process and before downloading a model you will see a list of available file formats to make your selection.
You can download at no cost all additional file formats needed at any time from "Downloads" page in your Account.
View more on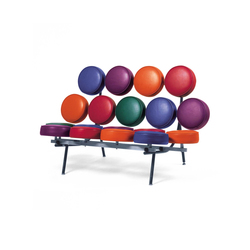 This sofa is one of the earliest manifestations of Pop Art in furniture design. Its unique form makes it one of the few truly unconventional sofas in design history. This sofa illustrates how the whole can be greater that the sum of its parts. By joining separate elements and making them appear to float on air, designers Nelson and Irving Harper achieved this sofa's unique appearance and eye-catching appeal. The result is a piece with just the right mix of drama and utility for lobbies, lounges and living rooms.
The basic version consists of 18 individual round cushions mounted on transverse braces in the seat and back. A connecting element makes it possible to join individual sofas together, extending the length as desired.
When the Marshmallow sofa was introduced in 1956, the Herman Miller catalog described it as "The first of a series of pieces embodying a new concept in soft seating. Cushions can be detached for easy cleaning and interchanged to equalize wear or create a new look. The cushions can be all the same color or in multiple colors for the right look in a private office, lobby, lounge, living room.
The playful Marshmallow sofa is a landmark of modern design that's still turning heads and making people smile.

Year of design: 1956, reintroduced by Herman Miller after a 34-year hiatus in 1999.