Detail level
Photorealistic
Available 3d file formats
One purchase gives access to all file formats available. By default only .max file format is selected for download.
During the checkout process and before downloading a model you will see a list of available file formats to make your selection.
You can download at no cost all additional file formats needed at any time from "Downloads" page in your Account.
View more on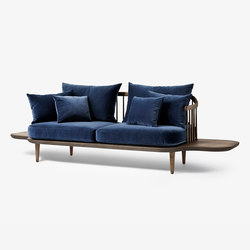 Fly embodies the idea of lounging to the fullest, allowing you to sit, lie, rest and relax. The line combines traditional Scandinavian design features with a strong sense of comfort. Created by design duo SPACE Copenhagen for the Danish brand &Tradition, the Fly lounge series includes two lounge tables, two sofas, and an armchair. The Fly SC3 sofa combines elements of both a sofa and a table though it's meant to be a sofa. The side tables ensure maximum functionality, joyfully extending from the sofa like wings.
In creating our 3D models we have worked hard to capture the essential features of Fly: the structured, sculptural look, the loose cushions for the back, the cotton upholstery, the frame with a slatted back rest, made of oak wood and treated with smoked or white oil. Crafted with great modeling perfection, our Fly SC3 stuns with its photorealism and is ideal for 3D visualizations.