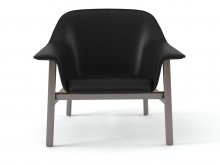 Detail level
Photorealistic
Available 3d file formats
One purchase gives access to all file formats available. By default only .max file format is selected for download.
During the checkout process and before downloading a model you will see a list of available file formats to make your selection.
You can download at no cost all additional file formats needed at any time from "Downloads" page in your Account.
With their Sedan chair, Lyndon Neri and Rossana Hu demonstrate how varying impressions can be created simply by changing the material or the colour of individual elements in a design. The chair's seat and frame are conceived as visually distinct, contrasting forms: the seat appears to be suspended in the wood or metal frame like a sedan chair, giving the design its name. Although offering the ultimate in comfort, the armchair is not a ponderous, immobile object, but rather a lightweight, flexibly arrangeable piece of furniture.