Detail level
Photorealistic
Available 3d file formats
One purchase gives access to all file formats available. By default only .max file format is selected for download.
During the checkout process and before downloading a model you will see a list of available file formats to make your selection.
You can download at no cost all additional file formats needed at any time from "Downloads" page in your Account.
View more on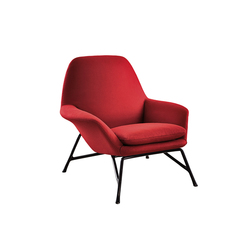 Designed for sophisticated customers, the Prince Armchair is a brilliant example of Rodolfo Dordoni's work and expertise. A masterful blend of technology and tradition, this upholstered seating piece finds the perfect balance between the classic design tradition of the 50's and the contemporary understanding of design.
Just like the original piece, our computer generated versions of the Prince Armchair have been crafted with great workmanship and meticulous attention to every construction detail. The complex construction of the base and the harmonious shape of the seat are beautifully recreated in our 3D models. Available in different finishes, and in both fabrics and leather versions, these versatile pieces will blend in with any setting, adding a considerable impact in your interior visualization.
Launched in 2012, the Prince Armchair is in production by the internationally acknowledged Italian furniture manufacturer Minotti.