Detail level

Photorealistic
Available 3d file formats
One purchase gives access to all file formats available. By default only .max file format is selected for download.
During the checkout process and before downloading a model you will see a list of available file formats to make your selection.
You can download at no cost all additional file formats needed at any time from "Downloads" page in your Account.
View more on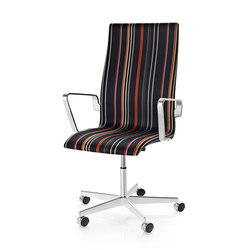 Series of chairs and armchairs for use in the office, guest, conference
and lounge as well as in the private home. The Oxford chair by Arne Jacobsen was reshaped in 2003 according to the curves and dimensions of Arne Jacobsen's original design from 1965.
The result is a slimmer, beautiful and comfortable chair. Suitable as a conference chair, desk chair, guest chair and lounge chair. The Oxford chair was originally designed for St. Catherine's ollege in 1963. Over the years, the chair grew hicker and its appearance changed. 40 years after the introduction, the Oxford chair was revitalized and today looks more like the original. A more sculptural appearance has been obtained. The chair is available in tall or low back and lounge model, each with different options, e.g. castors and arms, leather or fabric upholstery. In 2008 it is also available with medium high back. Arne Jacobsen was and is an admired and outstanding designer. While the significance of Arne Jacobsen's buildings was less appreciated, his furniture and other design work have become national and international heritage.


Year of design: 1965, redesigned 2003/2005/2007