Detail level
Photorealistic
Available 3d file formats
One purchase gives access to all file formats available. By default only .max file format is selected for download.
During the checkout process and before downloading a model you will see a list of available file formats to make your selection.
You can download at no cost all additional file formats needed at any time from "Downloads" page in your Account.
View more on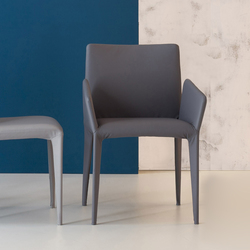 Miss Filly is elegant and stylish. And yet, comfortable and welcoming with its wider back and slightly opened armrests. This beautiful armchair is fully upholstered, while the legs can be either upholstered to match the seat or can remain stunningly metal. Cleverly designed by Bartoli Design, the Filly range will satisfy any requirement. The family consists of totally five chairs with different functionality, all manufactured by the Italian brand Bonaldo.
Miss Filly, the version with armrests, has been turned into a 3D model by our own in-house designers to bring you a contemporary piece of furniture, ideal for 3D visualizations where the emphasis is on comfort, functionality and styling at one and the same time.