Detail level

Photorealistic
Available 3d file formats
One purchase gives access to all file formats available. By default only .max file format is selected for download.
During the checkout process and before downloading a model you will see a list of available file formats to make your selection.
You can download at no cost all additional file formats needed at any time from "Downloads" page in your Account.
View more on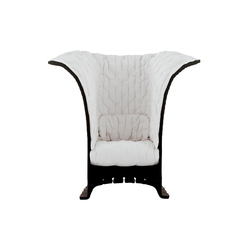 High armchair and low armchair constructed entirely of thick wool felt. To create the strength necessary for the felt to support the human body, the lower portion of the design is thoroughly impregnated with polyester resin. This forms a cartilage-like material that guarantees the necessary stiffness, durability, and resilience.
The seat is fixed to the supporting "frame" via hemp strings, which are also used to trim the soft edge of the chair's back and arms. The back is one piece of felt, which stands up for a more majestic, wing chair-like profile; it can also be turned down, like a coat collar, to provide a lower profile and arms.
For additional comfort, the seat and the inside of the back are lines with quilted fabric and down padding.