Detail level

Photorealistic
Available 3d file formats
One purchase gives access to all file formats available. By default only .max file format is selected for download.
During the checkout process and before downloading a model you will see a list of available file formats to make your selection.
You can download at no cost all additional file formats needed at any time from "Downloads" page in your Account.
View more on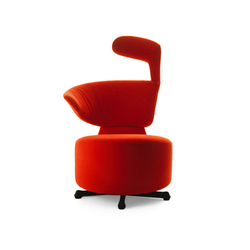 For over 30 years Toshiyuki Kita has divided his working time between Japan and Italy, while combining – in the design of a piece of furniture, an object or a space – the cultures and stimuli of both countries. Countries separated by a distance that for him is only a matter of geography. Winner of many industrial design awards, creator of genuine bestsellers shown in museums all over the world - the George Pompidou centre - Paris, the Museum of Modern Art - Hiroshima, the International World Exposition - Sevilla amongst others, Kita accompanies research on new materials and typologies for useful objects with a recovery of the ancient traditions of his country, interpreting the lesson of Japanese crafts: that of giving a soul to objects and their design. Kita is president of the japanese design association NPO, advisory board and a professor at the product design department of the Osaka University of Art.
Kita says: "Design is how you can harmonise many complex factors into a single form. Design is in one word 'harmony' (or chowa) and its communication adds vibrancy to life. Form and color transmit a message and this message affects our feelings. However, the elements change over time, so we as designers always have to review our approaches."
This chair was designed to be used with a computer. It rotates through a full 360 degrees. Three designs are available: with or without arms and with an arm that swivels to become a headrest (Aki, Biki, Canta). This series was designed especially for our modern computer-oriented society and also with our aging society in mind. Permanent Collections Of The Museum Of Modern Art, Saint Etienne, France.
Fixed steel base. Moulded black polyurethane or aluminium casting. Also available on black castors. Steel frame with padding in CFC-free polyurethane foam and polyester wadding. Removable fabric or leather covers