Detail level

Photorealistic
Available 3d file formats
One purchase gives access to all file formats available. By default only .max file format is selected for download.
During the checkout process and before downloading a model you will see a list of available file formats to make your selection.
You can download at no cost all additional file formats needed at any time from "Downloads" page in your Account.
View more on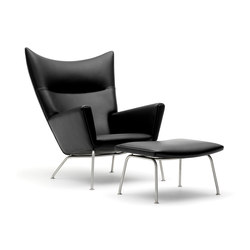 Hans Wegner's furniture is based on the principle that good material and good craftsmanship go together hand in hand. Beyond his talents as a wood worker, he also has a unique sensibility for the materials he works with - wood. Durability and functionality are important requirements to wegner, and so is timelessness.
New Wegner chair, 45 years old "Wingchair", designed in 1960, continues to win awards in 2006.
Back in 1960, Danish design legend Hans J. Wegner sketched an upholstered easy chair which saw only limited production. Now, Carl Hansen & Son, the Danish furniture maker, has dusted off the drawings to bring this contemporary classic back to life. With it's calm, clean lines and exceptional comfort - hallmarks of Wegner's best work - the Wingchair's timeless appeal has already won awards at IMM Cologne 2006, where it was launched in January, and at Copenhagen International Furniture Fair in May.
Year of design: 1960