50% OFF
exclusive *
Official *
Detail level
Photorealistic
Available 3d file formats
One purchase gives access to all file formats available. By default only .max file format is selected for download.
During the checkout process and before downloading a model you will see a list of available file formats to make your selection.
You can download at no cost all additional file formats needed at any time from "Downloads" page in your Account.
View more on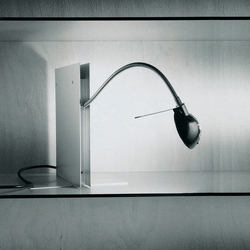 A piece of lighting that catches the attention. Extraordinary, like all objects bearing the name Ingo Maurer. Designed in 1998 by the great Ingo Maurer, Oskar is a bookend light, providing punctual light for large and small shelves. The slim, rectangular aluminum transformer base fits in seamlessly with a row of books. The flexible metal arm allows variable adjustment of the reflector. Originally designed to both hold books in place when they're on a shelf and illuminate their pages when they're being read, Oskar will also work ideally on desks and bedside tables.
In our model you'll find the provocative design of Oskar recreated in 3D form and can lighten up the shelves in your 3D visualizations in a pleasant and functional way.