Tress medium suspension lamp
Detail level

Photorealistic
Available 3d file formats
One purchase gives access to all file formats available. By default only .max file format is selected for download.
During the checkout process and before downloading a model you will see a list of available file formats to make your selection.
You can download at no cost all additional file formats needed at any time from "Downloads" page in your Account.
View more on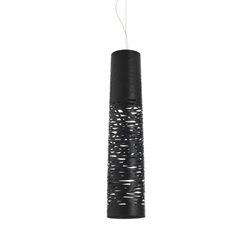 Interwoven, resin-impregnated fibres recall the texture of baskets. The vision interweaves light and material through contrasting bands of full and empty space, differently distributed according to how the lamp will be used. It recalls the warm touch of fabric and creates a highly suggestive visual and tactile sensory effect.

Tress is made of composite materials, similar to those already used by Marc Sadler and Foscarini in the Mite and Twiggy collections, with a completely different application and results. This creates new expressive possibilities for the collection and develops new functions as well. For example, in the floor versions, the cable drowned in the interwoven structure produces a clean, elegant aesthetic effect.

The collection is available in three colours - white, black or red - each revealing different personalities: black strongly underlines the woven structure that shapes the three-dimensional decoration; the white version has a lighter, more discrete presence, while the red version, most dramatically emphasizes the interplay of light and shade in the weave. In the floor version, the spread of the beam of light both through the body and out the top, creates a particularly attractive effect, thanks to two light sources with separate switches. The lower light illuminates the heart of the lamp and underlines the intertwined graphics, creating an enveloping effect, while the upper part bounces light off the ceiling.
Tress medium suspension lamp