50% OFF
exclusive *
Official *
Detail level
Photorealistic
Available 3d file formats
One purchase gives access to all file formats available. By default only .max file format is selected for download.
During the checkout process and before downloading a model you will see a list of available file formats to make your selection.
You can download at no cost all additional file formats needed at any time from "Downloads" page in your Account.
View more on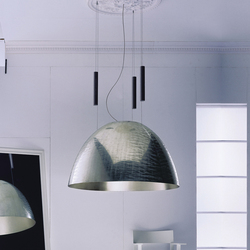 The Pierre ou Paul is a generously shaped pendant, impressive with its scale and design. This striking lighting piece was designed by Ingo Maurer and his team in 1996 in Germany. It is made of aluminum and stainless steel with inner surface that can be finished in gold, platinum or mat color according to the interior color. What is also interesting about this suspension lamp is that its inclination and height can be easily adjusted thanks to its three counter weights. Thus a whole room or pieces of furniture can be directly spotlighted.
Pierre ou Paul by Ingo Maurer has been turned into a 3D model by our artists to bring you a shapely piece of lighting, perfect for 3D visualization of larger spaces such as restaurants, hotels, halls, lofts, etc.