Detail level
Photorealistic
Available 3d file formats
One purchase gives access to all file formats available. By default only .max file format is selected for download.
During the checkout process and before downloading a model you will see a list of available file formats to make your selection.
You can download at no cost all additional file formats needed at any time from "Downloads" page in your Account.
View more on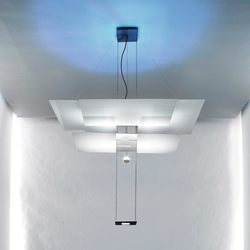 An extravagant suspension light that attracts the attention in any environment. Designed in 1993 by Ingo Maurer, Oh Mei Ma is a true classic and an outstanding example of Ingo Maurer's lighting artistry. The construction consists of six sheets, made of gold-plated paper, which are suspended from thin metal cables. Stunning light reflections and shadows create a warm and inviting atmosphere. Every single Oh Mei Ma lamp is made by craftsmen at the Ingo Maurer workshop in Germany. Our 3D models are a perfect reproduction of this iconic gold chandelier, which is as elementally striking today as it ever was. For architects and interior designers, it is a visually stunning pendant that provides abundant light to the interior space, while adding style and interest.