50% OFF
exclusive *
Official *
Detail level
Photorealistic
Available 3d file formats
One purchase gives access to all file formats available. By default only .max file format is selected for download.
During the checkout process and before downloading a model you will see a list of available file formats to make your selection.
You can download at no cost all additional file formats needed at any time from "Downloads" page in your Account.
View more on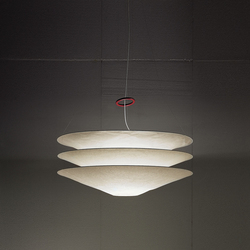 The beautiful Floatation lamp was originally designed in 1980 by the legendary "poet of light" Ingo Maurer. This piece has turned into a true classic in the contemporary lighting design and a great example of Ingo Maurer's mastery. Floatation is made of Japanese paper and metal, featuring three handmade paper shades nested within each other creating a gentle diffusion of light throughout a space. The piece is adjustable in height via a red-enameled iron ring that acts as a counterweight and as an accent at the same time. Made in Germany by Ingo Maurer.
The Floatation 3D models accurately recreate the crinkles in the paper, which are an intended design attribute. Take a closer view and you'll be impressed with the level of photorealism. Our artists have gone a long way in making this outstanding lighting pendant in 3D.