Detail level
Photorealistic
Available 3d file formats
One purchase gives access to all file formats available. By default only .max file format is selected for download.
During the checkout process and before downloading a model you will see a list of available file formats to make your selection.
You can download at no cost all additional file formats needed at any time from "Downloads" page in your Account.
View more on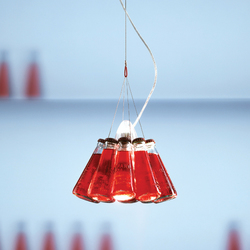 Ingo Maurer's exceptional lamps, lighting systems and objects date back to the middle of the 1960's turning into true classics in the contemporary lighting design. All products, bearing the name Ingo Maurer, are simply unmistakable and unique as is this Campari pendant. Designed by the Italian photograph Raffaele Celentano for Ingo Maurer in 2002, this unusual lighting piece features ten original Italian Campari glass bottles filled with original Campari inside. The bottles are individually detachable and the lamp height is freely adjustable.
We couldn't resist turning this stunning pendant into 3D. Mastered with utmost attention to every tiny detail, our 3D models of Campari are suitable whenever you want to add a colorful note to the light and jazz up your interior. They are ideal for high resolution renderings and close ups thanks to the utmost modeling perfection they are crafted with.