Detail level
Photorealistic
Available 3d file formats
One purchase gives access to all file formats available. By default only .max file format is selected for download.
During the checkout process and before downloading a model you will see a list of available file formats to make your selection.
You can download at no cost all additional file formats needed at any time from "Downloads" page in your Account.
View more on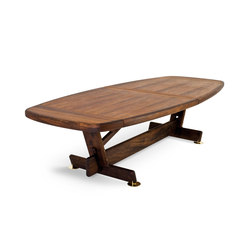 Designed by the brilliant Sergio Rodrigues in 1978, this piece is a great example of contemporary Brazilian furniture design. Made of solid hardwood frame and finished with varnish, the Parker dining table illustrates Rodrigues overt passion for wood. It is manufactured by the company, exclusively licensed to produce Sergio Rodrigues's furniture,LinBrasil.
Our 3D model of the Parker table is a stunningly photorealistic interpretation of the original piece. Two-part lid with solid hardwood edges and veneer trim as well as all tiny details such as trims and bolt fittings have been accurately reproduced by our in-house artists. A great addition to your 3D asset collection of iconic pieces by the great Sergio Rodrigues.