Detail level
Photorealistic
Available 3d file formats
One purchase gives access to all file formats available. By default only .max file format is selected for download.
During the checkout process and before downloading a model you will see a list of available file formats to make your selection.
You can download at no cost all additional file formats needed at any time from "Downloads" page in your Account.
View more on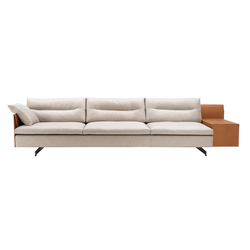 Jean-Marie Massaud takes inspiration from the world of saddlery and design Grantorino. A huge amount of freedom in how you put it all together. A modular sofa with an exquisite, original version that combines Saddle Extra Leather with Pelle Frau® leather or fabric. Hand-cut, hand-shaped leather closely moulds the lines and structure of the seat. The high and slim armrest also presents intricate, careful workmanship. The small but spacious trunk-container also acts as an armrest and it's out fitted with an elegant, natural oak tray. The cushions have beautiful horizontal stitching in the centre, which gives the sofa a sense of visual lightness.