Detail level
Photorealistic
Available 3d file formats
One purchase gives access to all file formats available. By default only .max file format is selected for download.
During the checkout process and before downloading a model you will see a list of available file formats to make your selection.
You can download at no cost all additional file formats needed at any time from "Downloads" page in your Account.
View more on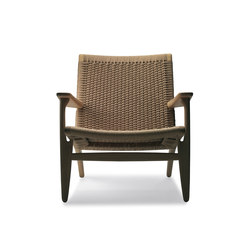 Hans Wegner's furniture is based on the principle that good material and good craftsmanship go together hand in hand. Beyond his talents as a wood worker, he also has a unique sensibility for the materials he works with - wood. Durability and functionality are important requirements to wegner, and so is timelessness.
CH25 is Wegner's only chair with rope seat and rope back.
Inspired by classical portraits of Danish merchants sitting in Ming chairs, Wegner created series of chairs, which stand out from the crowd like new letters in an alphabet that helped establish Denmark as an international leader of modern design.
The easy chair CH25 was among the first four chairs Wegner designed for Carl Hansen & Son in 1950, all of them with woven seats - CH25 with woven back as well. The special profile of the forelegs is probably the chair's most characteristic feature. Their unusual shape make them carry most of the user's weight and serve as a stable support for the armrests at the same time. Another interesting detail is the hind legs, which flush with the rail. The rope weaving of the seat and back form a distinctive pattern.
Even with its low profile reclining seat, the broad armrests add comfort and allow the sitter to get up easily.
Year of design: 1950