Detail level
Photorealistic
Available 3d file formats
One purchase gives access to all file formats available. By default only .max file format is selected for download.
During the checkout process and before downloading a model you will see a list of available file formats to make your selection.
You can download at no cost all additional file formats needed at any time from "Downloads" page in your Account.
View more on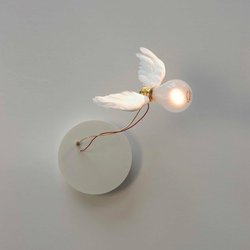 A piece of lighting with great personality. Its name, Lucellino, is a wordplay coming from the Italian words for light (luce) and bird (uccello). Typically for Ingo Maurer, a classic light bulb stands in the center of the design. It is beautifully combined with handmade goose feather wings on a delicate wire stem giving dynamic and the impression of a glowing cherub flying. Originally designed in 1992, Lucellino NT is the wall version of the Birds Birds Birds chandelier and is currently produced by the German manufacturer Ingo Maurer.
Our 3D model of the Lucellino NT is a perfect reproduction of this extraordinary wall lamp. It will fit into almost every home, adding an extravagant accent to any 3D visualization.