Detail level
Photorealistic
Available 3d file formats
One purchase gives access to all file formats available. By default only .max file format is selected for download.
During the checkout process and before downloading a model you will see a list of available file formats to make your selection.
You can download at no cost all additional file formats needed at any time from "Downloads" page in your Account.
View more on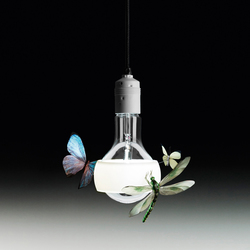 Johnny B. Butterfly is much more than just a lamp. It is a real work of art and may be one of the most beautiful pieces of lighting ever made. Designed in 2011, Johnny B. Butterfly is a typical Ingo Maurer pendant, where a halogen bulb, the source of light, is at the center of the design. It features a white shade heat-resistant ring, adorned with handmade models of a dragonfly and two butterflies. Made exclusively for Ingo Maurer, each insect is an individual work of art, created to be beautiful, life-like, durable, and light as a feather.
The amazing Johnny B. Butterfly has been turned into a 3D model by our in-house designer to bring you a gorgeous light fixture that will beautify and illuminate any refined interior space.