Detail level
Photorealistic
Available 3d file formats
One purchase gives access to all file formats available. By default only .max file format is selected for download.
During the checkout process and before downloading a model you will see a list of available file formats to make your selection.
You can download at no cost all additional file formats needed at any time from "Downloads" page in your Account.
View more on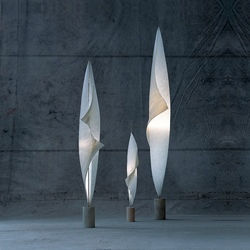 This lovely piece of lighting is stunning in its form, materials and craftsmanship. It is made through an elaborate 8-step paper dyeing process, invented by textile creative Dagmar Mombach and formed into its unique lamp design by Ingo Maurer. Multiple paper layers are folded by hand and shaped into the final form so that each Wu Tum Bu lamp is one of a kind. In our 3D models we have worked hard to capture this seamless blend of visual beauty and technical sophistication.
The Wo Tum Bu floor lamp was launched in 1998 and today it is still in production by Ingo Maurer and even after almost 20 years has the ability to liven up any interior design glowing from the inside like a lit-up cocoon. It is the perfect accompaniment for the bedroom thanks to the warm, diffused light that is spreads around.