Detail level
Photorealistic
Available 3d file formats
One purchase gives access to all file formats available. By default only .max file format is selected for download.
During the checkout process and before downloading a model you will see a list of available file formats to make your selection.
You can download at no cost all additional file formats needed at any time from "Downloads" page in your Account.
View more on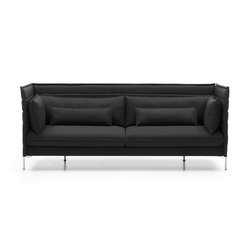 A sofa can go beyond being merely a piece of furniture and become a room of its own within a room – this was the idea that prompted Ronan and Erwan Bouroullec to design Alcove Sofa. With its unusually soft seat and backrest upholstery, as well as the high, flexible side and back panels, Alcove Sofa creates the frame for such a comfy, safe and secure world, a place for relaxed withdrawal from the hustle and bustle of life: Two people can stretch out and sit opposite each other, leaning leisurely back against the side walls, and if required the sofa also provide sufficient space for a third person. Alcove Sofa combines the contrasting qualities of a comfortable secluded relaxation area with an open invitation to enter and sit down.
Chromed tubular steel, metal frame with belt upholstery, panels made of fibreglass-reinforced plastic, seat and backrest cushioning: polyurethane foam and polyester wool, set of cushions: filled with microfibres and polyurethane foam.

Year of design: 2006