Detail level
Photorealistic
Available 3d file formats
One purchase gives access to all file formats available. By default only .max file format is selected for download.
During the checkout process and before downloading a model you will see a list of available file formats to make your selection.
You can download at no cost all additional file formats needed at any time from "Downloads" page in your Account.
View more on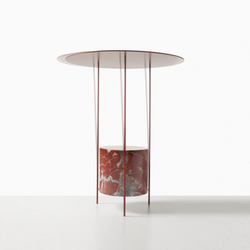 This cute little table is named after the famous Italian dessert 'Panna Cotta'. Created by the internationally acclaimed Tel Aviv-born New York-based designer Ron Gilad, this piece is delicate and heavy at one and the same time. The paradox lies in the use of materials, marble and iron, to achieve a fragile stability. Panna Cotta's base and top are made of black, white or red lacquered metal, combined with tone-on-tone White Carrara, Grey Carnian or Red French marbles. Our 3D models perfectly reproduce the thin structured table top in stabilized steel wire with the marble counterweight. They also reflect the color choices of the original Panna Cotta table, as available from Molteni & C.