Detail level

Photorealistic
Available 3d file formats
One purchase gives access to all file formats available. By default only .max file format is selected for download.
During the checkout process and before downloading a model you will see a list of available file formats to make your selection.
You can download at no cost all additional file formats needed at any time from "Downloads" page in your Account.
View more on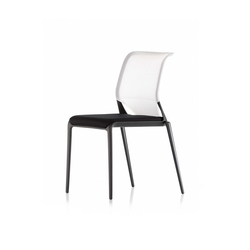 MedaSlim, is a comfortable, elegant and universally suitable chair for offices, meeting rooms and conference venues, auditoriums, restaurants, cafés and the home. In short, for any area in which comfortable seating is desired for extended periods of time. The chair has a restrained appearance and is distinguished by its superior comfort, durable materials and logical, lightweight construction. MedaSlim is also an ideal companion to the office chairs in the Meda Collection.Together with the breathable mesh fabric and the frameless, cushioned seat shell, the flexible backrest ensures pleasure and comfort during long periods spent sitting.The backward curve of the upper backrest allows generous freedom of movement and prevents pressure
points.The combination of an ergonomically shaped backrest and mesh upholstery provides comfortable support in every sitting position. The front legs, seat and backrest frame are moulded out of plastic in a single unit. This feature makes MedaSlim highly responsive to the movements of the sitter. The back legs and armrests are made of aluminium; the surface finish is chromeplated, polished or powdercoated. This gives MedaSlim strength. With or without armrests, up to five chairs can be stacked to save space (stackable versions with chrome-plated back legs). Media Slim is optionally
available with row connectors and seat numbers.
Year of design: 2004