Detail level
Photorealistic
Available 3d file formats
One purchase gives access to all file formats available. By default only .max file format is selected for download.
During the checkout process and before downloading a model you will see a list of available file formats to make your selection.
You can download at no cost all additional file formats needed at any time from "Downloads" page in your Account.
View more on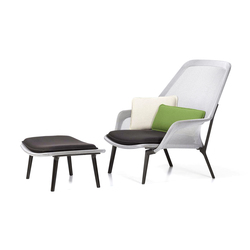 The concept of the Slow Chair is from 2006 by the two talented Vitra designers, Ronan and Erwan Bouroullec. It uses a knit sling cover stretched over a metal frame like a silk stocking to provide all the comfort of a gentle embrace. In fact, the Slow Chair gets its name from the sensation of sitting in it, and our 3D models reflect its expansive luxuriousness and extremely lightweight structure. As in real life, the laid back appearance of Vitra's Slow Chair is equally appropriate to indoor or outdoor 3D designs, and it will always leave the viewer with an impression of relaxation and self-indulgence.