Detail level
Photorealistic
Available 3d file formats
One purchase gives access to all file formats available. By default only .max file format is selected for download.
During the checkout process and before downloading a model you will see a list of available file formats to make your selection.
You can download at no cost all additional file formats needed at any time from "Downloads" page in your Account.
View more on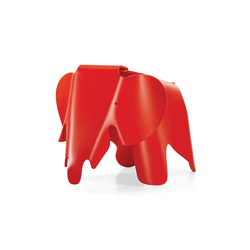 The Eames Plywood Elephant is wonderfully playful, whether regarded as a toy,a piece of sculpture or just an accessory. The elephant motif often appears in the photographic work of Charles Eames, and is here the result of the Eames own plywood moulding technique for creating furnishings and sculptural items. There is only one model of the original Eames Plywood Elephant prototype is known to exist, but Vitra has produced a limited edition version in natural or red stained maple. Our 3D model captures the Elephant in all its curvaceous splendour. Big enough for a toddler to sit on, this toy/sculpture enlivens any interior design visualisation.